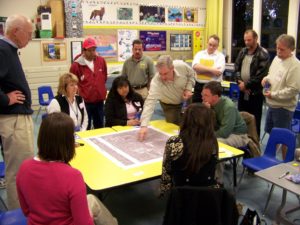 Each of the seven jurisdictions in Solano County has a Safe Routes to School Community Task Force. Task force members work together to identify and prioritize SR2S activities and infrastructure projects at the local level. In some cases, these task forces are extensions of existing committees or groups that focus on school-related transportation issues.
Local SR2S Community Task Forces are typically comprised of representatives from the city council, public works and police departments, school district administration and board members (trustees), school site administrators and parents, community leaders, and representatives of the STA Bicycle and Pedestrian Advisory Committees.
The projects prioritized by each SR2S Community Task Force are included in the Safe Routes to School Master Plan. This allows for the SR2S Program (STA) and cities to apply for funding to complete the identified bike and pedestrian projects around schools.
SR2S Community Task Forces
City of Benicia
Benicia Community Task Force Minutes: January 15, 2020

City of Dixon
Dixon Community Task Force Minutes:  March 5, 2020
City of Fairfield
City of Rio Vista
Rio Vista Community Task Force Minutes: October 22, 2019

City of  Suisun City
Suisun Community Task Force Minutes: February 27, 2020
Suisun City Pedestrian Safety and Community Task Force Minutes: March 20, 2019
DRAFT Suisun City SR2S Project List
City of Vacaville
Vacaville Pedestrian Safety and Community Task Force Minutes: June 7, 2019

City of Vallejo
Vallejo Community Task Force Minutes: October 24, 2019
Vallejo Pedestrian Safety and Community Task Force Minutes: March 25, 2019