Public Safety Education and Enforcement Grant

2020-2022 Safe Routes to School Public Safety Education and Enforcement Grants
For the fifth Cycle of the SR2S Public Safety Education and Enforcement Grant, the cities of Benicia and Suisun City, received funding for a Community Service Officer (CSO) position to work directly with schools in their community to address traffic, parking and bike/pedestrian challenges at the schools. These CSOs will work directly with Safe Routes to School staff to implement walking and biking education and activities throughout their jurisdictions.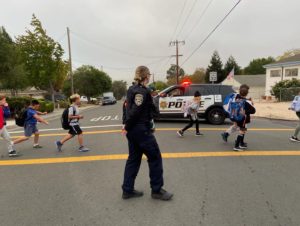 Benicia Community Service Officer, Kim Guggemos assists at the Mary Farmar cross walk.
Previously Awarded Enforcement Grants
In 2011, the first SR2S Public Safety Enforcement Grant was piloted by the Suisun City and the Fairfield Police Departments.  Program tasks and activities in the pilot included: development of crossing guard training materials and DVD, bike rodeo instructional DVD, bike rodeo and event assistance and support, coordination with schools, and directed enforcement at schools.
The second round of SR2S Public Safety Enforcement Grants were awarded in 2014 to the Rio Vista and the Vacaville Police Departments to provide crosswalk safety enforcement, crossing guard training and coordination with schools for SR2S program events. In 2016, the third round of the grants were awarded to the Rio Vista Police Department and the Suisun City Police Department including activities such as hosting a Rio Vista Safety Fair, and the hiring of a School Safety Traffic Officer within the Suisun City Police Department.