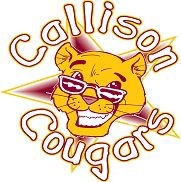 Callison Elementary
Vacaville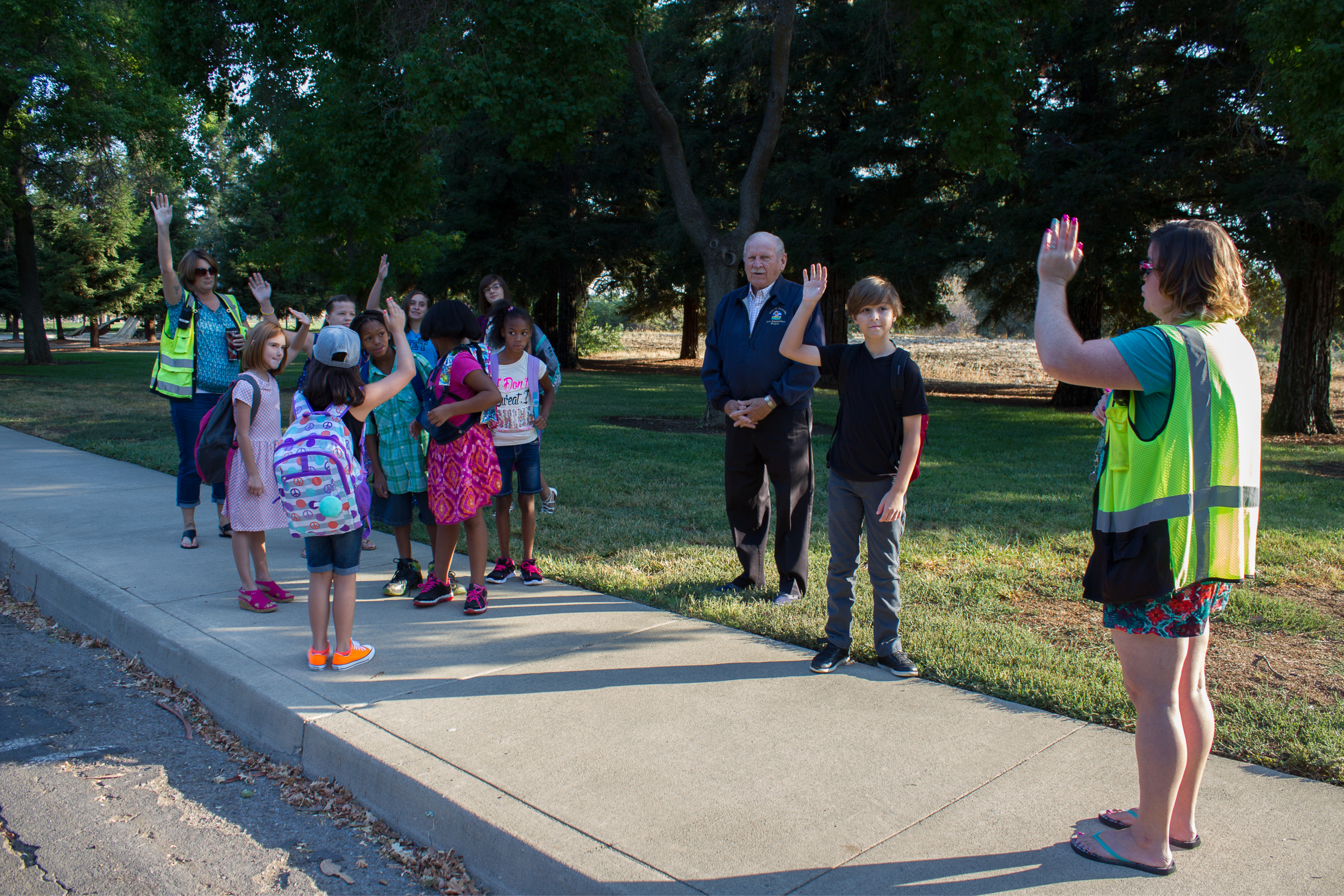 Walking School Bus
In an effort to combat excessive traffic around the school during drop off and pick up times, then principal, Cathy Bozzini, decided to close the school parking lot during the 2014-2015 school year and offer parents a safe alternative to driving their children to school by starting three staff-led Walking School Bus (WSB) routes.
During the first year implementing the Walking School Buses, school staff led an average of 45 children to and from school daily on three routes, rain or shine.  As a departure from volunteer-led Walking School Buses, the school decided to use school staff to ensure continuity and availability to lead the routes every day. Parents liked having school staff lead the WSB's because both the parents and the students know the staff. Since the program began, the school has had fewer traffic concerns and the children walking are getting more exercise.  
Now in its 4th year, the program is part of the school culture and popular with parents and their children who participate.  While the program continues to remain popular, the Walking School Bus now has one route led by two parent volunteers who walk with students every day,  to and from school, rain or shine.
Kudos to the Callison administrators for its commitment to continue providing  parents a safe and dependable alternative for getting their children to and from school.
Note: The WSB is currently on hiatus, but will resume in December 2018 or January 2019.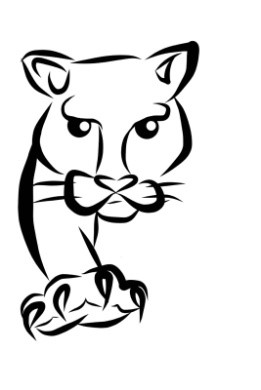 Padan Elementary
Vacaville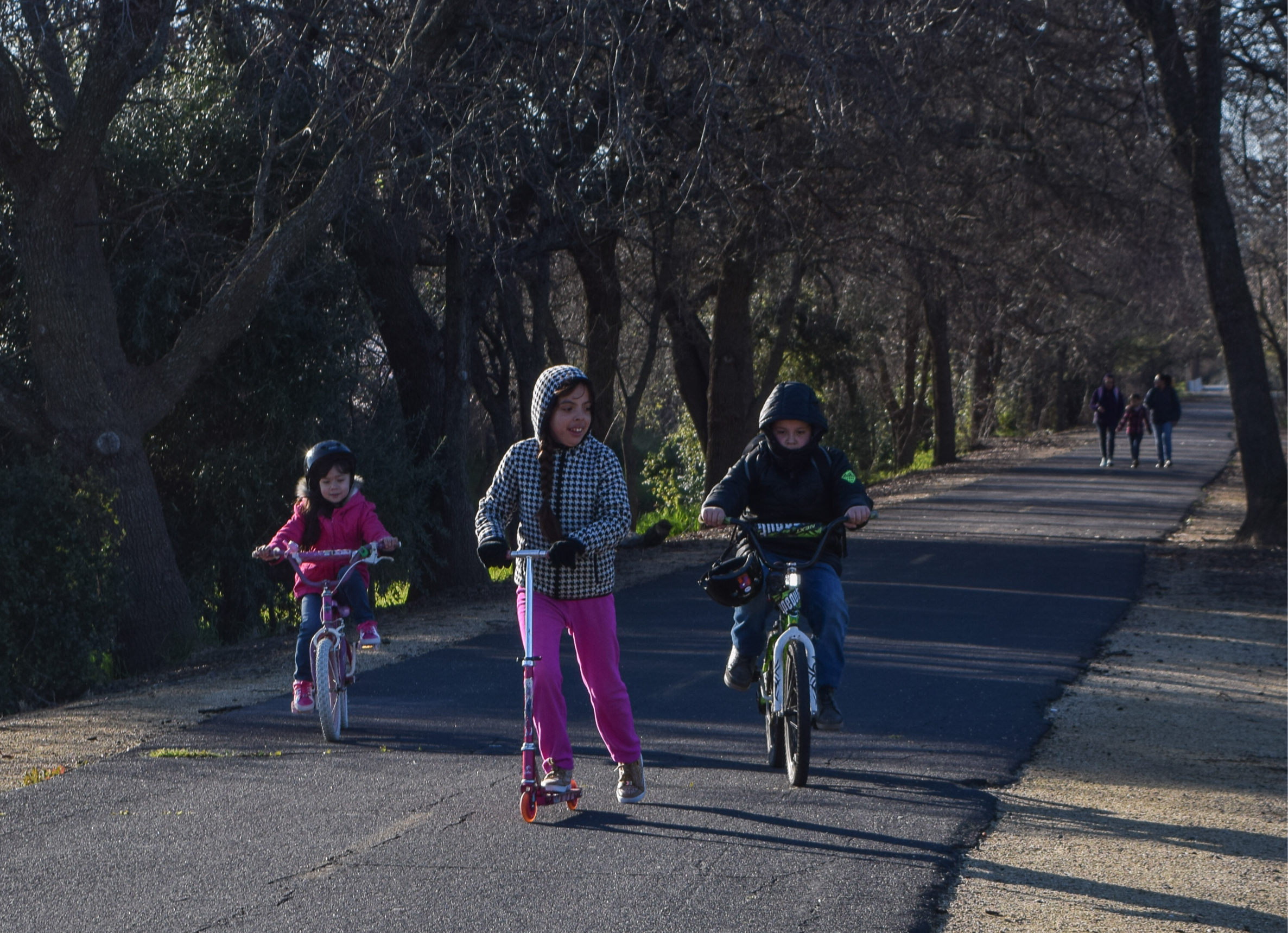 WOW (Walk or Wheel) Wednesdays.
Principal Cicely Rodda has ardently supported the SR2S program for numerous years at Padan Elementary and during the 2016-2017 school year, she undertook the challenge to start WOW Wednesdays for the school's 600 plus students. Wanting to get her students active in an on-going walking and biking program, she launched the WOW (Walk or Wheel) Wednesday program in March 2016.  She worked with her teaching staff to get their support and use their prep time to meet the students at three different meeting spots to encourage them to keep walking, biking or riding scooters to school and give the kids much coveted charms for their efforts. To publicize and promote the weekly event, Mrs. Rodda had signs and a banner put up around campus, sent information to parents and posted information on the school website. According to Cicely, the kids are excited about the program and it's gaining in popularity.
The school  has consistently been involved in numerous SR2S activities and programs making Padan one of the top schools in the county in participation last year. In addition to WOW Wednesdays, Padan participated in a Bike Rodeo, the SR2S Poster Contest, International Walk to School Day, Bike to School Day, and twice-yearly student travel surveys in Oct. 2016 and May 2017.
On Bike to School Day last May, Mrs. Rodda welcomed Supervisor John Vasquez, who presented two Padan students, who were 2017 Poster Contest winners, with gift certificates.  The event was featured in a front page story in the Vacaville Reporter.
WOW Wednesdays are continuing in the 2017-2018 school year with school staff and a volunteer grandparent greeting students every Wednesday as they walk, bike or ride their scooters to school.