On December 9, 2020 the STA Board and staff virtually hosted the STA's 23rd Annual Awards Program recognizing the outstanding projects, partner agencies or individuals for their contribution to transportation throughout Solano County.
The Solano Safe Routes to School Program was pleased to recognize Crystal Middle School (Fairfield-Suisun USD, Suisun City) and Dixon Montessori Charter School (Dixon) for their participation in the SR2S Program.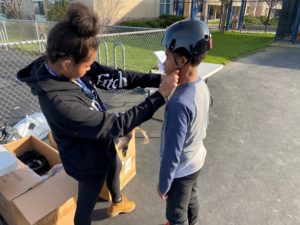 See how Crystal Middle School students are engaging with SR2S:
"Prior to school closures in March 2020 due to the COVID 19 pandemic, Crystal Middle School in Suisun City, had quickly become a standout Solano Safe Routes Champion School. Principal Jay Dowd, and Community Liaison David Knott embraced the SR2S program over the last several years prioritizing safety and support for students walking and biking to school.
To begin the 2019-20 school year, SR2S staff were invited to the Back to School orientation rally to provide helmets, and safety information for walking and biking. Also, during the school year, Mr. Knott's Beyond Differences Student Service Organization (BSSDO) invited SR2S to meet with them and discuss the SR2S program. This meeting included a presentation from the BSSDO team who organized a schoolwide bike safety event which included bike repair from the Bay Area Bike Mobile, the Blender Bike from Solano Public Health, and helmet fitting. Students from the team set-up the event and learned how to properly fit helmets to encourage their peers to wear helmets while biking, skating and on scooters. This student led event brought together several partners to provide active transportation options and safety information for Crystal Middle Schools students and families. This event was the second bike repair event held at Crystal in two years with a total of 83 bikes repaired and 32 helmets provided between both events. As Principal Dowd works to meet the needs of the students while they continue distance learning, he has continued to express interest in participating in SR2S programs that support student bike safety."
Read about Dixon Montessori and their route to Champion School Status:
"Prior to the COVID 19 school closures in March 2020, Dixon Montessori Charter School had robust participation in many SR2S activities and programs. The marked increase in participation began when Executive Director, Ben Ernest, noticed a considerable increase in bike riders after the 2017 Bike to School Day celebration. To build on the momentum that began with the Bike to School Day event, Dixon Montessori launched a WOW (Walk or Wheel) Wednesday program at the beginning of the 2018-2019 school year. For the 2019-2020 school year, the weekly WOW Wednesday program continued and became a very popular weekly event. This program encourages students to ride or walk to school and aligns with the goals of the school to promote independence for students, strengthen community, and reduce traffic congestion during high traffic times. This weekly event is supported by school staff and parent volunteers and has a high rate of student and family participation.
In addition to the weekly WOW event, the school has held 14 SR2S activities and programs over the last several school years. In March 2019, Dixon Montessori was awarded funding from the SR2S Pilot Micro-Grant Program to purchase incentives and safety equipment to further address the safety of its students as they travel to and from school. While the school prepares for the return of students to in person classes, a new drop-off and pick-up procedure is being completed with the Micro Grant award to help keep students walking and biking to school safe, and to reduce traffic congestion around the school during arrival and dismissal times. The dedication that the staff, parents and students continue to show makes Dixon Montessori Charter School a Solano SR2S Champion School."